There is something quite magical about fragrance and scent, and perfume is about so much more than smelling good. Massimo Ferragamo said: "The best investments in every man's life are a custom-tailored suit and an expensive cologne. It's like buying the best first impression." 
With that in mind, here are the 5 most expensive perfumes from around the world in 2021, designed to create a long-lasting impression.
1.Shumukh
Shumukh perfume is the most expensive perfume in the world, costing a staggering $1.29 million. Its bottle consists of the largest number of set diamonds in the world.  It was created and presented by one of Dubai's leading master perfumers, Asghar Adam Ali in March of this year at the Armani Ballroom at the Burj Khalifa in Dubai. Shumukh is composed of Indian agarwood, sandalwood, musk, Turkish rose, and many other ingredients not disclosed to the public. Its fragrance can last more than 12 hours on human skin and about 30 days on fabric. Only one bottle is available for sale, making it a rare and exceptional fragrance.

2.DKNY golden delicious 
"DKNY Golden Delicious" by Donna Karan New York, once the most expensive fragrance until last March, is now in second place with a value of USD 1 million. Like the Shumukh, there is only one piece ever produced for the purpose of raising money for charity. It has required 1,500 hours of meticulous work for the team of expert jewelers to create the flask, which is composed of 2,909 precious stones like white diamonds, yellow sapphires, Cabochon sapphire from Sri Lanka, turquoise Paraiba tourmaline from Brazil, plus rose-cut diamonds, and pink diamonds from Australia.

3.Clive Christian No. 1 Imperial Majesty 
"Clive Christian No. 1 Imperial Majesty" is the third most expensive perfume in the world with a value of $12,722. The fragrance was designed by the renowned British perfumer Roja Dove, with only ten fragrances made to date. It features a luxurious aromatic floral blend of rose oil, jasmine, and Tahitian vanilla. The bottle has a design befitting the name, with a neck made of 18 karat gold and set with a 5-carat diamond.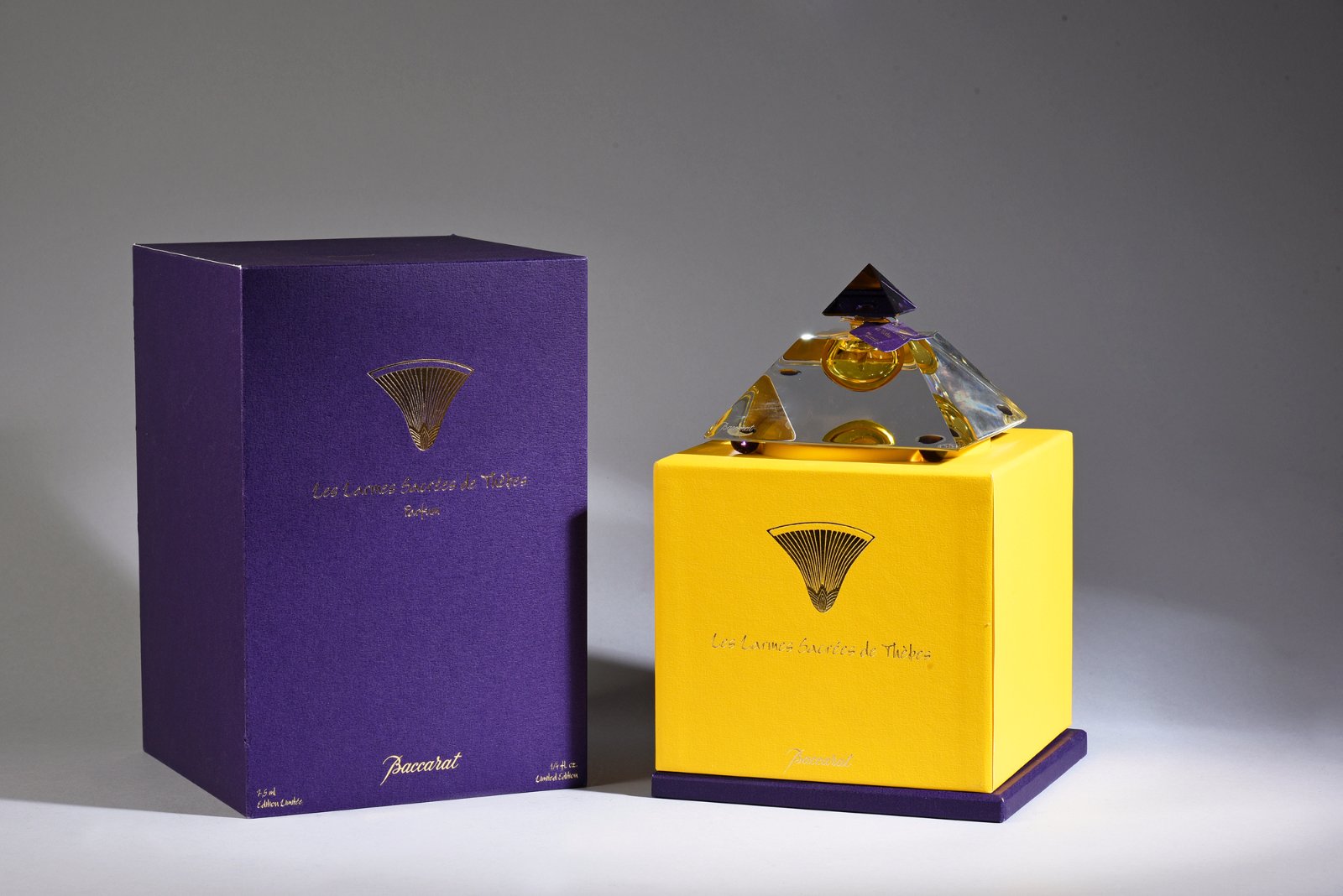 4.Baccarat Les Larmes Sacrees de Thebes
A highly regarded french crystal maker since 1764 for its fine crystal creations, Baccarat made a brief appearance in the world of luxury perfumery in the 1990s. The result was "Baccarat Les Larmes Sacrées de Thèbes", one of the most expensive fragrances in the world, of which only three bottles have been released since. Pyramid-shaped, made of handcrafted crystal, with an amethyst cap, the perfume costs 6,800 USD per ounce.

5.Chanel Grand Extrait
Created in 1921 through a collaboration between Coco Chanel and perfumer Ernest Beaux, "Chanel Grand Extrait" has a very high pedigree in the world of luxury perfumes. Worth $4,200 per ounce, the fragrance embodies femininity through its delicately rosy scent. Its bottle itself is a masterpiece of design with its majestic glass facets, shaped like a monumental diamond.