A team of highly experienced, dedicated creatives from Botswana and the UK brings you Dhaa Botswana: Fashion, Craft and Culture, the 1st edition of an annual festival happening at Cresta Mowana Safari Resort & Spa in Kasane, Botswana, 24th – 26th November 2023. Expect high-velocity fashion showcases featuring top local and international fashion designers, exhibitions, and first-class cultural and popular contemporary entertainers.
Dhaa Botswana is a groundbreaking event aimed at spotlighting and galvanizing support for Botswana's arts, crafts, fashion, and culture with an emphasis on expanding sustainability, international exposure, investment opportunities, increased tourism, cross-sector engagement, upskilling, employment generation, and national pride. Dhaa Botswana will celebrate Pan-Africanism, inviting industry experts and allies, internationally acclaimed designers, and artisans from across Africa and the African Diaspora, demonstrating Africa's global leadership in resources, sustainability, innovation, designs, community, and heritage preservation.
The event expects a footfall of 3000 guests of all ages and backgrounds who will be greeted with a warm Botswana welcome, DUMELA. The first few days in Botswana will be a colorful exploration of the calm yet vibrant Gaborone Capital. The city center, with its unique architecture, has been described as one of the safest cities in Africa. If you choose to fly to Kasane (the festival location)  you will have the better advantage of Chobe Delta, Chobe River that cascades into the game reserve, a habitant of over 100, 000 herds of Elephants (the largest elephant conservation in the world), great number of lions, leopards, cheetahs, buffalos, crocodiles, hippos, kudus, colourful birds and many other mammals and amphibians. A 500km drive away from Kasane to Nata village will find animals trod into twos and threes until you reach Kasane, that is when you will look forward to an evening/morning boat and game drive. Dhaa Botswana will offer you an experience rich in culture and creativity, an amazing human-animal coexistence!
Who is Dhaa Botswana?
Along with an impressive portfolio and decades of experience between them, a shared sense of purpose, and uncompromising championing of Africa and African Pride, Dhaa Botswana is brought to you by Kootshepile Motseonageng (bka. Berry Heart) – a leading public figure in Botswana, a very successful entrepreneur, a highly sought after brand ambassador, fashion designer, owner of Berry Heart Creations and Berry Heart Safaris, and a multi-award-winning artist, singer, and poet. Ikanyeng Molemele is a highly accomplished consultant in financial services and information and communication technology, based between London and Botswana, with clients including the European Bank of Reconstruction Development, Botswana National Development Bank, M&G Prudential, Vodafone, British Telecom, to name a few.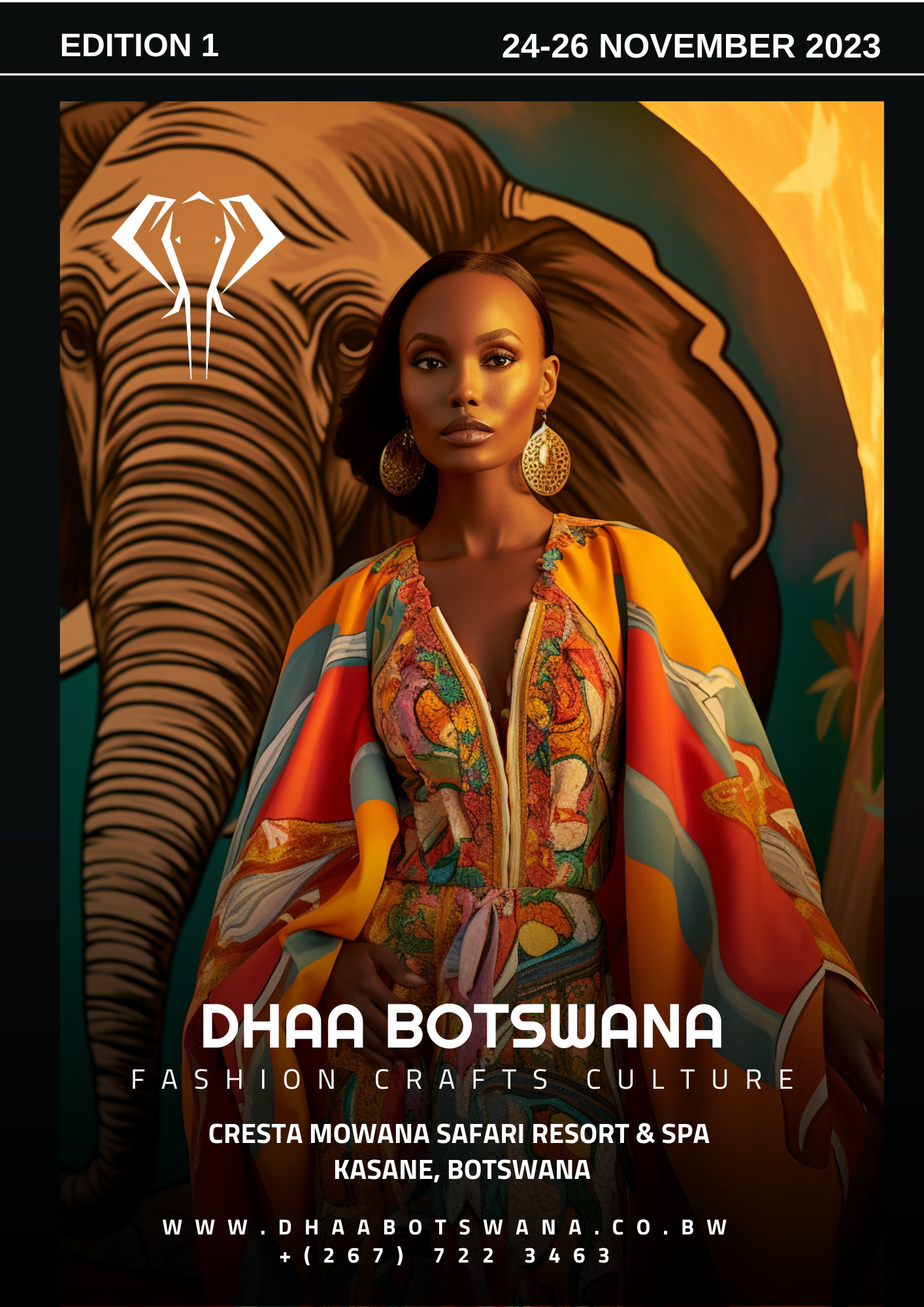 Ikanyeng was also a consultant for an  ICT company in Botswana where she led Service Management and Sustainability and Social Performance functions.  Michael Burgess, previously a senior diplomat, has been the program and business development lead, event producer, and advisor for key Africa-focused organizations in the UK and Europe including Africa Fashion Week London and Nigeria, the Africa Centre, the Royal African Society, Tate Museums, Victoria & Albert Museum, the Africa in London Committee, to name a few.  He is the Co-Founder and Director of one of the UK's highly regarded social enterprise, Creative Resilience International, specializing in production and development which promotes and empower creatives in art, design, and culture from Black and underrepresented communities.
Guided by the unique needs of Botswana and its creative industry and spurred by the United Nations' 17 Sustainable Development Goals, Dhaa Botswana is shifting the spotlight on Botswana and seeing the country as a viable culture and creative capital in Africa with an impressive history of resilience, leadership, and unending potential.  Stay up-to-date on all the latest information on our website, www.dhaabotswana.co.bw and on our social media handles are: IG @dhaa.botswana Facebook, @dhaa Botswana TikTok @dhaa.botswana Twitter @dhaa_botswana YouTube @dhaabotswana