In a world that often defines beauty within rigid borders, one vibrant 18-year-old is breaking free from the mold and encouraging others to do the same.
Meet Rayan El Mahmoud, a determined redhead who recently claimed her well-deserved spot among the winners of the Vogue Open Casting Class of 2023.
Chosen from an astounding 67,243 entries, Rayan not only marked a personal triumph but also proudly put Ghana on the global fashion map beside South Africa as the only representative from Africa in the competition.
However, her journey transcends statistics and accolades. It is a testament to her resilience, passion, and belief that "everything happens at the right time."
"everything happens at the right time" 
The vibrant 18-year-old redhead is determined to make her mark in the modelling world, inspiring youngsters to pursue their dreams, regardless of age, looks, or circumstances.
In an exclusive interview, we delved into Rayan's world, exploring her aspirations, influences, and her mission to redefine beauty beyond borders. From her early foray into modeling at the age of 13 to being inspired by the likes of Iman and Kate Moss, Rayan's story is one of courage and authenticity.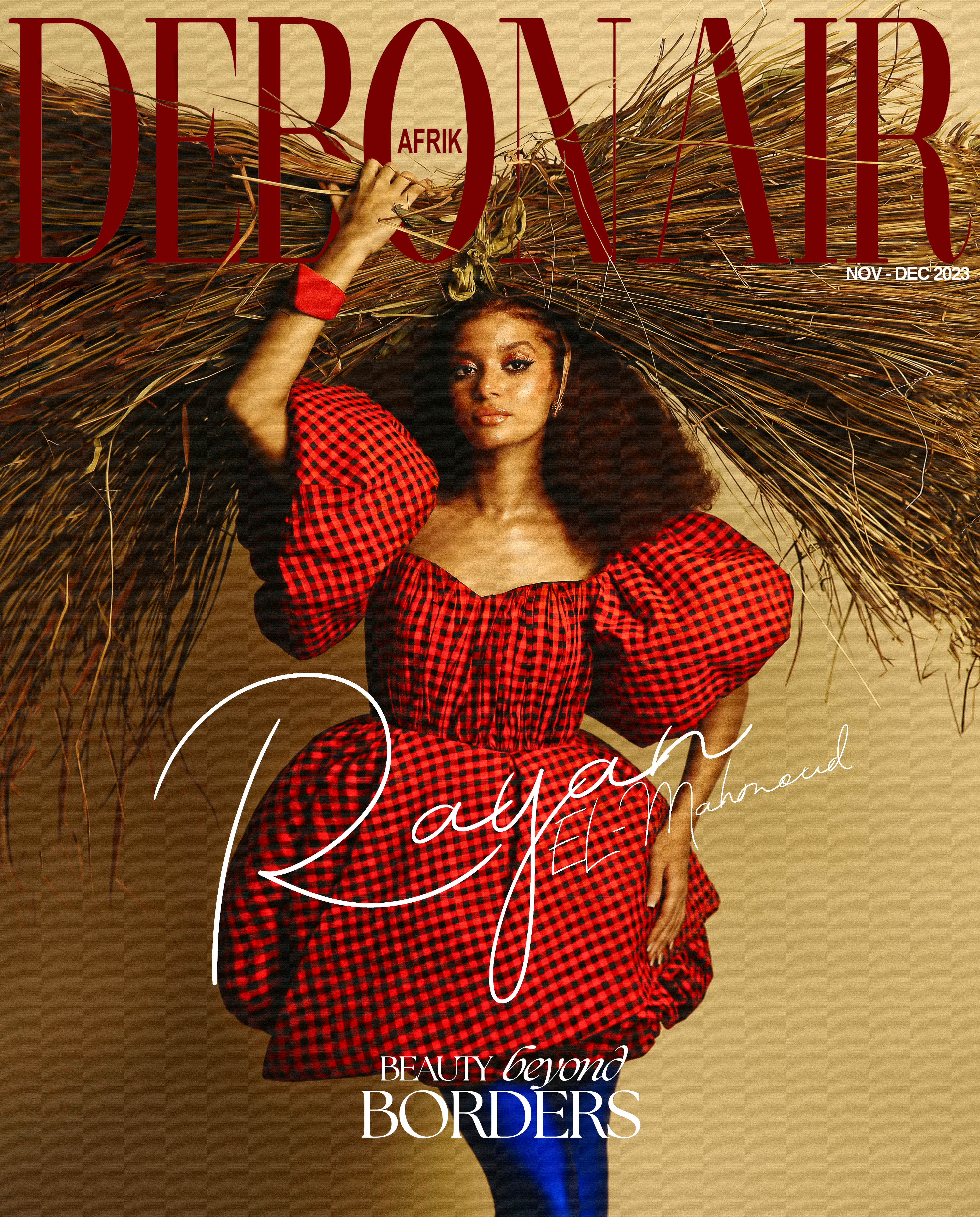 Welcome Rayan! It is lovely to have you. Can you describe yourself with four words?
Thank you for having me. I will describe myself as bubbly, ambitious, driven and a risk-taker. I began my modelling journey at the age of 13 in high school with no guidance or idea of how this would turn out but I was extremely passionate about modelling.
What inspired you to pursue modelling?
I grew up in a family that loves taking photos. I was always in front of a camera and with time I became comfortable. I feel like it has always been in me. I love shoots, taking photos, and meeting people from different backgrounds while learning new things. The modelling industry seemed to be my calling.
Who are your influences in the modelling industry?
My mum is my number one influence because I want to make her proud. Among models, I admire Kate Moss for her passion and ability to challenge stereotypes about height in the industry. I love Imaan Hammam because of her drive and ambition, and how she uses the tool of social media. For models, social media is really important and powerful for self-promotion.
How do you want to use your platform to inspire others to embrace their unique beauty?
I love inspiring people through my images because when I create, I believe there's a story behind it. When people see me, I just want them to know that they can chase their dreams. No matter how young or old. I always say it's never too late to do anything. Once you put your mind to it, you can do it.
How will you define beauty beyond borders?
Beauty is more than the physical. It comes from within. Your personality, your appearance, and everything else is just an addition but I believe true beauty is all about the heart. Once you have good intentions and a pure heart, you are beautiful. I also feel like we don't even see our beauty sometimes, and it takes others to see it.
How have you been able to handle the industry's expectations about your appearance?
I have stayed focused and always kept my eye on the goal, I still do. I've had instances where I've been told that I wasn't tall enough or had to get some weight off. I did not let that get to me. Knowing your worth and loving yourself is also a big part you need to have in this industry because people would tell you all kinds of things, even in life generally, but you should know who you are and your end goal. Staying focused is key.
Timing is also important. I was around 14 to 16 when I started to hear all these things about myself. Now that I'm 18, everything has just come at the right time. Everything happens at the right time.
What changes in the beauty standards and modelling agencies have you noticed since you started?
The modelling industry is always changing. There is more diversity. For example, more black models are being booked for jobs and I love that. Also, the diversity in weight and height has become permanent in the industry now.
I feel like moving forward there are going to be new brands, new designers, and each designer wants to represent their brand in a type of way and that will keep pushing the stereotypes of the modeling industry.
How important is it for you to see diverse representations of beauty in the media?
I am happy that it's getting more diverse because it provides opportunities for everyone who wants to get into the fashion world.
It also encourages aspiring models and myself. I'm still young and even though I have the right mindset, there are days I feel like I'm just not at my best energy. On those days, when I go on social media or modelling websites like Vogue or models.com and see all the unique stunning faces, it encourages me.
It shows me that definitely, I'll be able to make my way through. It's also heartwarming to see how others take on their dreams and make it become a reality.
What advice would you give to someone who's struggling with body image due to societal body standards?
Self-love is really important and I feel like it's really underestimated. When you have that confidence within yourself, you'd be able to break boundaries. I feel like that's something that can be worked on by starting to work on having the right mindset.
I always say this, your mindset is like what you eat or how you take care of your body. If you eat junk food, and take the wrong things, you're going to become unhealthy. It's the same way if you speak negatively about yourself, your mindset and self-confidence is going to break and you're going to feel down about yourself. When you start speaking positively about yourself day to day, like appreciating little things and just speaking good about yourself, your present and your future, then you are going to have that positive mindset, which is going to make you successful.
How would you like to make an impact in the modelling industry?
I would like to have an agency in the future where I  push more talents like photographers, designers, and models from Africa because that is one area I believe needs to be worked on as there are so many talented individuals that should be recognised and pushed. I want to make a difference. I believe I could make a big impact once I establish myself. I feel like the way forward is when we all help each other and win together.
What is next for you, Rayan?
I will leave everyone in suspense for this. I want to continue breaking modelling stereotypes and I want people to remember that nothing is unattainable and unachievable. With the right mindset, You can do it all!
Credits:
Cover Star: Rayan El-Mahmoud
Art Direction & Photography: Christian Saint
Creative Director & Editor: Nuel Bans
Stylist: Racheal Akonnor
Assistant Stylist: Cecilia Boakye
Prod. Assistant: Salome Marshall
Makeup: Prince Asare
Hair: Dede Benissan
Designer: Kenneth Tetteh
Interview: Ruth Nartey
Production: Debonair Afrik Studios
Set Design & Graphic Design: New Saint Corp