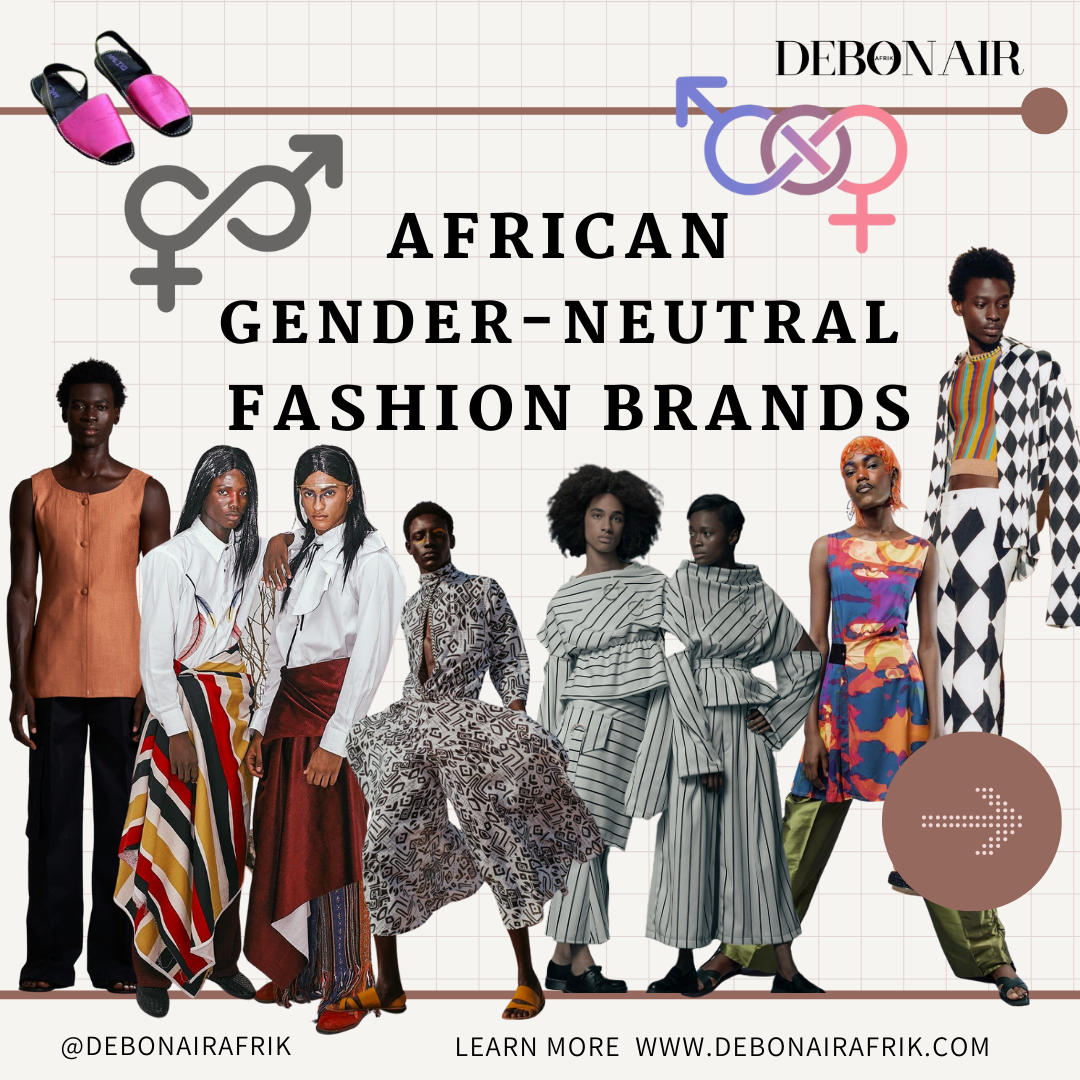 In fashion, gender neutrality in terms of clothing has existed for a long time, notably through the work of famous fashion designers such as Yves Saint Laurent, who transposed smoking into the women's wardrobe in 1966 after the caban in 1962, or, before him, Gabrielle Chanel, who appropriated pieces and materials from the men's wardrobe to dress women.
In recent times, fashion reflects an era that is increasingly free of gender codes. After the unisex dressing, the time has come for "gender-neutral" or "gender fluid", which consists of freely navigating between men's and women's clothes to play with sexual identities and use all the possibilities to define a style. 
The "gender-neutral" movement continues to confirm its status as an essential lifestyle where fashion is liberated and wardrobes are neutral. This phenomenon is now present on the catwalks of the major fashion shows as well as in the collections of our favorite fashion brands in Africa. Scrolling through the African fashion scene, here is a selection of African inclusive brands proving that fashion is beyond gender. 
MARRAKSHI LIFE
Launched in 2013 by New York-based photographer Randall Bachner, "Marrakshi" uses traditional Moroccan clothing and reworks them in a contemporary way. Each piece is designed, handwoven, and tailored in his Marrakech workshop for a new generation of urban nomads.
CHIIP.O.NEAL 
Proudly made, sourced, and designed in Accra, Ghana, Chiip.O.Neal is a brand that reflects the mindset, emotions, and personality of the wearer. It's about being free, positive, and making a transcendent impact wherever you are. 
KENNETH IZE
Following its Nigerian and Austrian origins, the brand "Kenneth Ize" of the well-known designer Kenneth Ize, draws its sources from the traditional Yoruba culture and its authentic fabric "Aso Oke", combined with European fashion. 
OLOOH CONCEPT
Olooh is an Ivorian fashion brand founded in 2018 by Kader DIABY, a photographer known for his poetic images, published in many magazines. Olooh is inspired by a Malinké culture, full of ample outfits in earthy colors that draw a casual and elegant silhouette.
RICH MNISI 
If you want to connect with the hidden treasures of the African culture while remaining contemporary and modern in your style, Rich Mnisi is the South African label that tells the timelessly fascinating story of the men and women of our continent.
SISIANO
If you are passionate about fluidity and freedom, wrapped in colors worthy of a beautiful field of delicate flowers, the Nigerian brand "Sisiano" by the designer Paolo Siasiano is the perfect choice for you. 
ORANGE CULTURE 
"Orange Culture" is a brand committed to tackling the oppression of androgynous people through its neutral and colorful designs. More than just clothes, the Nigerian brand defines itself as a movement, according to its creator, Adebayo Oke-Lawal.
AJABENG 
Ajabeng is a Ghanaian fashion brand by designer Travis Obeng-Casper.  The label claims to be contemporary and specializes in aesthetic unisex clothing. A concept proudly called "Afro-minimalist"
TZAR
"Tzar studios" is a Nigerian brand birthed from the love for prints inspired by the ethos of the metrosexual man. Tzar challenges the conventional approach of clothing by creating unique items that embody gender neutrality.
IAMISIGO
A bold universe, where simplicity reigns with an extreme individuality. The Nigerian brand "Iamisigo" wants to make the whole world understand the African continent. Its aim is to tell the stories and realities of Africa, past and present, through its unique creations. 
MALIKO
The brand "Maliko", by designer Ebuka Omaliko, is a pure tribute to sustainability and fair trade made in Nigeria. This independent brand of handcrafted footwear and accessories, based in Lagos, Nigeria, is for audacious people, authentic and self-aware. 
IMPRINT ZA   
"Imprint ZA" is a luxury South African fashion brand created to celebrate the glamour and achievements of the continent's heroes through iconic prints and fabrics. With a strong focus on streetwear and vintage, the brand delivers innovative designs to its community.